About Commando Health & Fitness
Andrew Tucker
Qualifications
Sports Therapist MSST Dip
Sports Massage
Gait Analysis
Dry Needling
IASTM (Instrument Assisted Soft Tissue Mobilisation)
Level 3 Personal Trainer
Military Fitness Expert
Weight Lifting Coach
ASA Level 1 Swim Coach
Boxing Coach
Andrew Tucker
Background
Andrew is a fully qualified Sports Therapist and member of the Society of Sports Therapists. He specialises in musculoskeletal injury rehabilitation utilising Gait Analysis Sports Massage, Dry Needling and IASTM techniques. Sports Massage is an extremely effective treatment for a variety of injuries and muscular issues. Regular massage helps promote better posture, increased muscular recovery due to the increase of blood flow to the muscles and increased range of movement and flexibility. Whether you are a full-time athlete or just interested in maintaining a fit and healthy body Sports Massage therapy can make a real difference to your health and well being.
A former Royal Marine Commando, Andrew has deployed on operations all over the world including Afghanistan and Anti-Piracy operations. Every deployment required the highest levels of physical fitness teamed with Courage, Determination and Fortitude, the foundations of anything he applies himself to in life. As a Physical Training Instructor, Andrew has huge experience in the fitness industry, both working with civilians and military personnel. As a Royal Marine PTI he was responsible for training over 150 Royal Marine recruits from an average fitness level, to 8 months later being as fit as a professional athlete.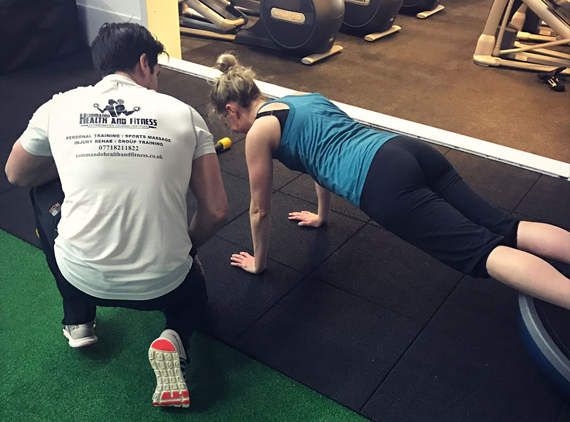 Andrew has been in the fitness industry since 2009, working as a gym instructor before joining the Royal Marines. Once in the Marines, he worked hard to achieve his lifelong goal of becoming a Royal Marine Physical training Instructor. Bringing experience from both of these roles, Andrew can help you achieve your fitness goals by tailoring a plan that is specific to you and your needs by drawing on his years of experience and passion for Health and Fitness.